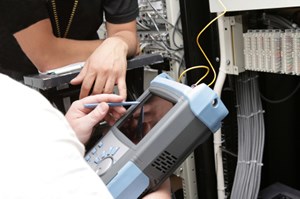 Cable Tel's Mission Statement
Our objective is to create and maintain gain-sharing relationships. This we accomplish through providing a superior product at a competitive price, maintaining mutually supported schedules and doing so with as few job difficulties as proper planning will allow.
Cable Tel Services, Inc., would like to have the opportunity to serve you and your company.
Key Management

Robert S. Long
President of Cable Tel Services, Inc.
Robert has over 40 years experience in the industry. Having developed a well-rounded knowledge during his time in the industry, he is well equipped to guide the company administratively and operationally. Robert says the key to the company's growth is "listen and provide a superior product at a competitive price, respond to the customer, and leave them satisfied". He believes a happy customer is a good salesperson.

Lawrence Quesnel
Senior Vice President of Cable Tel Services, Inc.

Lawrence has over twenty years in the Communications Industry and has been with Cable Tel since the company was founded. A native of Memphis, he heads operations from Cable Tel's Headquarters there. His leadership, determination, discipline and perseverance has sustained Cable Tel's reputation for superior results delivered on schedule and within budget. Lawrence has developed a team with a broad range of complimentary expertise and a culture that takes pride in delivering efficient solutions to their customer's toughest problems.
Lawrence says; "The success of a project is not in the talking, but in the doing. Our results speak volumes and our customers keep coming back because we value the relationship and are committed to helping them achieve their goals."

LaDeana Quesnel
Vice President of Finance of Cable Tel Services, Inc.
LaDeana has over 17 years of experience in the cable industry, ten of which have been with Cable Tel. The office manager reports to her and she oversees all office functions. Her objective is to achieve efficiency and accuracy in all aspects of all activities. LaDeana also promotes and encourages good contractor/customer relations and insures a smooth flow of administrative information between Cable Tel and the customer. Her tireless energy and dedication to promptness and accuracy insures minimum issues in job administration. LaDeana is also key to fostering and maintaining the feeling of value we place on our employees.